What do clients see whenever a freelancer adds manual time in his work diary?
Many Upwork freelancers are curious: "What if I add manual time without letting my client know? Would my client know?"
The answer is YES!
Upwork Manual Time Alert
Everytime a freelancer in Upwork adds manual time, the client receives a message instantly.  Take a look at the image on the right. This is the message that the client exactly receives.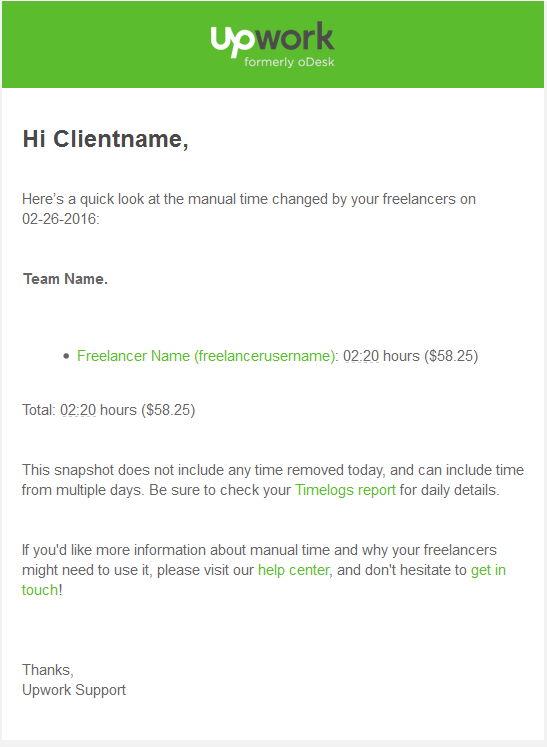 It includes the date when the manual time was entered, the name of the team (or company) where the client will be charged, the name of the freelancer, number of manual hours entered, and how much the client will pay.
Manual hours do not have Upwork guarantee for payment.  The client may disapprove this anytime, and freelancers will not get paid.  Only hours tracked with the Upwork app have guaranteed payments.  If the client did not disapprove this, the freelancer will get paid.
So freelancers, the next time you think about adding manual time, ask for permission first from your clients.  Not only it is ethical, it also builds trusts and respect.
If you are not yet an online freelancer, and you want to learn how, fill out the form below.
If you are a freelancer, and you want to get informed, fill out the form below too. 🙂
Visit us again to get more freelancing tips. You may also join our facebook group right here if you are an existing Upwork freelancer. This group is for freelancers who are already working online through Upwork.
For more tips, visit The Gazetteer.