I've been teaching my daughter some calligraphy because I really wanted her handwriting to improve. We started our home calligraphy lessons at the beginning of the year. I saw good improvement with her pen grip and handwriting.
These are the writing materials that my daughter and I collected. I've shared the free brush pen calligraphy worksheet below.
I created some PDF worksheets for her (and for me) that you can download for free right here. Calligraphy Worksheets. Please feel free to share it (click below to tweet).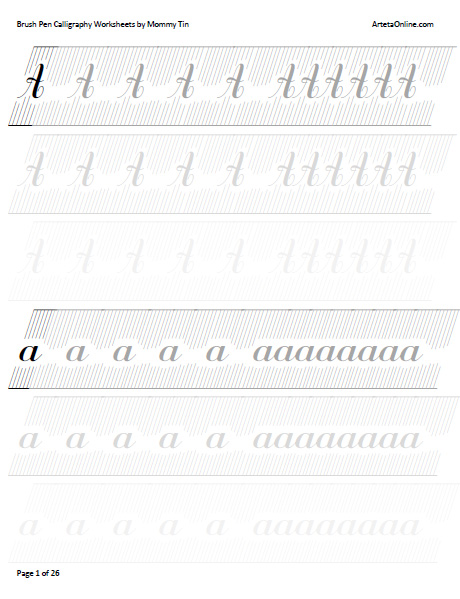 I bought some brush pens for her regular practice. We began with the cheap kuretake brush pens from the bookstore.  Then I bought more expensive brush pens.
Here are the pens I use for our calligraphy.
Kuretake Bimoji Fude Pen Fine Tip – This is my favorite.
Zig Clean Color Real Brush Pen – I love these too. Real brush!
Wink of Stella (Clear) and Wink of Stella Silver – I love everything sparkly. This works on decorating things too. One of my favorite craft pens.
Zig Calligraphy Dual Tip Pens in various colors – my daughter's favorite.
Zig Calligraphy Metallic Colours
Lots of Kuretake Fude Brush Pens in different colors for my daughter's practice. This is the cheapest.

Faber Castell PITT Artist Pens Manga Kaoiro Set
– this set is one of our first sets. My daughter won the top 10 Doodle4Google Philippines contest and she got this from her prize bag. The one she got is the Manga Kaoiro set.
Pilot Parallel Calligraphy Pen
Pilot Pen Parallel Pen Calligraphy Pen Assorted Colors Ink Refills
And soon, I will add these to our Pen collection:
Tombow Fudenosuke Brush Pen Twin Tip
Tombow Dual Brush Pen Art Markers
Get them from Amazon, or email me or message me on Facebook if you want to order them from me.